Homebrew Reference Book: The University of Sanbra's Guide to Xenobiology
Affiliations: Beasts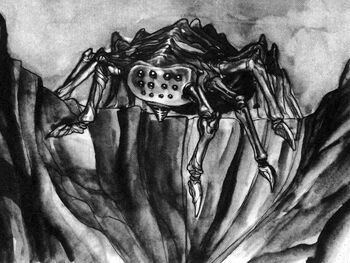 The Photon Spider is one of the few surviving creatures found on Varl after the devastation wrought to the planet by the Hutts. The creature is terrible to behold: 4 meters long and covered from mandible to spinneret in hard chitinous armor. In addition to this, the body of a Photon Spider is virtually transparent and the creature exceptionally light-footed, making it a highly effective ambush predator despite its size.
Photon Spiders get their name from their unusual natural weapon, a spinneret capable of firing a bolt of energy similar to that of a blaster set on Stun.
 Photon Spider Statistics (CL 5)
Edit
Large Subterranean Beast 6
Initiative: +12; Senses: Darkvision, Perception +9
Defenses
Edit
Reflex Defense: 19 (Flat-Footed: 15), Fortitude Defense: 14, Will Defense: 11
Hit Points: 60, Damage Threshold: 19
Speed: 8 Squares (Walking), 12 Squares (Climbing)
Melee: Bite +11 (1d8+10)
Ranged: Spinnernet +8 (2d6+3 (Stun))
Fighting Space: 2x2 Squares; Reach: 1 Square
Base Attack Bonus: +4, Grab: +16
Attack Options: Spinnernet
Species Traits: Darkvision, Natural Armor (+6), Spinnernet, Subterranean
Base Stats
Edit
Abilities: Strength 25, Dexterity 18, Constitution 18, Intelligence 2, Wisdom 13, Charisma 7
Feats: Skill Focus (Stealth), Skill Training (Initiative), Skill Training (Perception), Skill Training (Stealth)
Skills: Climb +15, Initiative +12, Perception +9 (May reroll, must take second result), Stealth +12
Abilities
Edit
Bonus Feat: Photon Spiders receive Skill Training (Stealth) as a bonus Feat.
Spinneret: A Photon Spider's Spinnerets act as an organic stun weapon similar to a blaster. The Spinnerets have a maximum range 6 squares for this Stun attack (Identical to a standard Blaster Pistol set to Stun).
Community content is available under
CC-BY-SA
unless otherwise noted.