Gamorreans are green-skinned, porcine creatures native to Gamorr. Their tendency toward violence makes them valued as criminal enforcers; though viewed as mindless brutes, they don't care so long as they are paid to fight.
Gamorrean civilization revolves around the never-ending wars between their clans. Preferring large melee weapon in combat, many see ranged weapons as cowardly. Males live to fight; females farm, hunt, and manufacture weapons. Inter-clan hatred rarely fades, and anyone hiring Gamorreans should be aware of their clans to avoid infighting.
Gamorrean Characteristics
[
]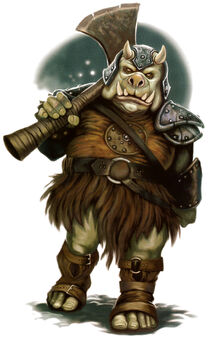 Personality: Gamorreans are brutish, violent, and proud. They respect physical prowess and have no problem facing death against a foe they feel they are on at least equal footing with.
Physical Description: Gamorreans average about 1.8 meters tall, with thick green skin covering powerful muscles. Close-set eyes, a thick snout, tusks, and small horns give them a distinct look.
Average Height/Weight: A typical Gamorrean stands at 1.8 meters tall and weighs 140 kilograms.
Age Groups: Gamorreans age at the following stages:
| CHILD | YOUNG ADULT | ADULT | MIDDLE AGE | OLD | VENERABLE |
| --- | --- | --- | --- | --- | --- |
| 1-6 Years | 7-12 Years | 13-29 Years | 30-39 Years | 40-44 Years | 45+ Years |
Homeworld: The preindustrial world of Gamorr.
Languages: Gamorreans speak Gamorrean. They have no written version of the language. They can learn to understand, but not speak other languages.
Example Names: Gartogg, Jubnuk, Ortugg, Ugmush, Venorra, Warlug.
Adventurers: Some Gamorreans leave their homeworld as slaves, but later escape or buy out their contracts. Others sell their contracts, finding employment as bodyguards or enforcers. A Gamorrean is constantly at war; it's only a matter of figuring out who the enemy is. Gamorrean Heroes tend to select the Soldier class.
Gamorrean Species Traits
[
]
Gamorreans share the following Species Traits:
Ability Modifiers: Gamorreans have a +2 bonus to Strength, but suffer a -2 penalty to both their Dexterity and Intelligence. Gamorreans possess greater physical power, but have limited agility and intelligence.
Medium Size: As Medium creatures, Gamorreans have no special bonuses or penalties due to their size.
Speed: Gamorreans have a base speed of 6 squares.
Primitive: Gamorreans do not gain Weapon Proficiency (Heavy Weapons), Weapon Proficiency (Pistols), or Weapon Proficiency (Rifles) as starting Feats at first level, even if their Class normally grants them.
Great Fortitude: Gamorreans gain a +2 Species bonus to their Fortitude Defense, accounting for their great physical resistance.
Bonus Feat: Gamorreans gain Improved Damage Threshold as a bonus Feat.
Weapon Familiarity (Arg'garok): Gamorreans treat the Arg'garok as an Advanced Melee Weapon, instead of an Exotic Weapons (Melee).
Automatic Languages: All Gamorreans can speak Gamorrean. They have no written version of the language. In addition, all Gamorreans understand, read, and write (But not speak) Basic.
Additional Gamorrean Species Feats
[
]
Reference Book: Star Wars Saga Edition Rebellion Era Campaign Guide
Gamorrean characters have access to the following Species Feats. No Species Feats are considered Bonus Feats for any Heroic Class.